A Sparkling Seasons Greetings!
Ironically despite the introduction to the cold weather, the sparkling magic of the holidays brings a sentiment of warmth, wonder, and awe for many. Full disclosure, I get really excited around the holiday season for a number of reasons. Number one, although I drink sparkling wine all year round no matter what the occasion – it seems even more appropriate to show up at friends and family gatherings with a bottle of bubbly this time of year. They think I'm fancy, huh! Well, I am, and I'm proud of it!
One of my favourite styles of sparkling wine (other than the notoriously pricey Champagne of course) is Crémant de Bourgogne. In Burgundy, France, located roughly just over 4 hours drive south of the northerly region of Champagne, crémants are done in the exact same method, often with a blend of the same grapes: Chardonnay and/or Pinot Noir most notably. Best part? They are a fraction of the price of entry-level non-vintage Champagnes so you don't have to break your holiday budget. You can get two bottles for the price of one! Crémant or Tradional Method will tell you that prior to market release, the wine undergoes a secondary bottle fermentation creating its signature moussey and creamy bubbles, just like it's role model region of Champagne. Go ahead and let those bubbles dance on your tongue for a moment and your palate will sing along to its sweet (but dry) serenade!
Crémant styles commonly offered to the international market are predominantly Brut and labeled as such indicating bone dry or zero residual sweetness on the palate. Depending on the grapes selected for each batch, and vintners / dealer's choice, you may end up with a pale yellow or a pretty-in-pink rosé hue. If the label reads Blanc de Blancs, meaning "white of white" en français, you can expect mostly Chardonnay and other regionally accepted white grapes such as Pinot Blanc, Pinot Gris and Aligoté. If it reads Blanc de Noirs, meaning "white of black" or red grapes, you can trust it's a blend consisting of mostly Pinot Noir and other local red varietals such as Gamay. The lack of pinkish colour is due to the skins not being left in contact with the juice during its' first round of fermentation. If you're lucky enough to find a beautiful rosé colour and style such as Cave de Lugny Rosé Brut (an all-time fave of mine) – you've got yourself a majority Pinot Noir, Gamay and Chardonnay blend. The hues will vary from light to dark pink, depending on how long the skins remain in contact with the juice. The longer the skins remain in contact, the deeper the hue.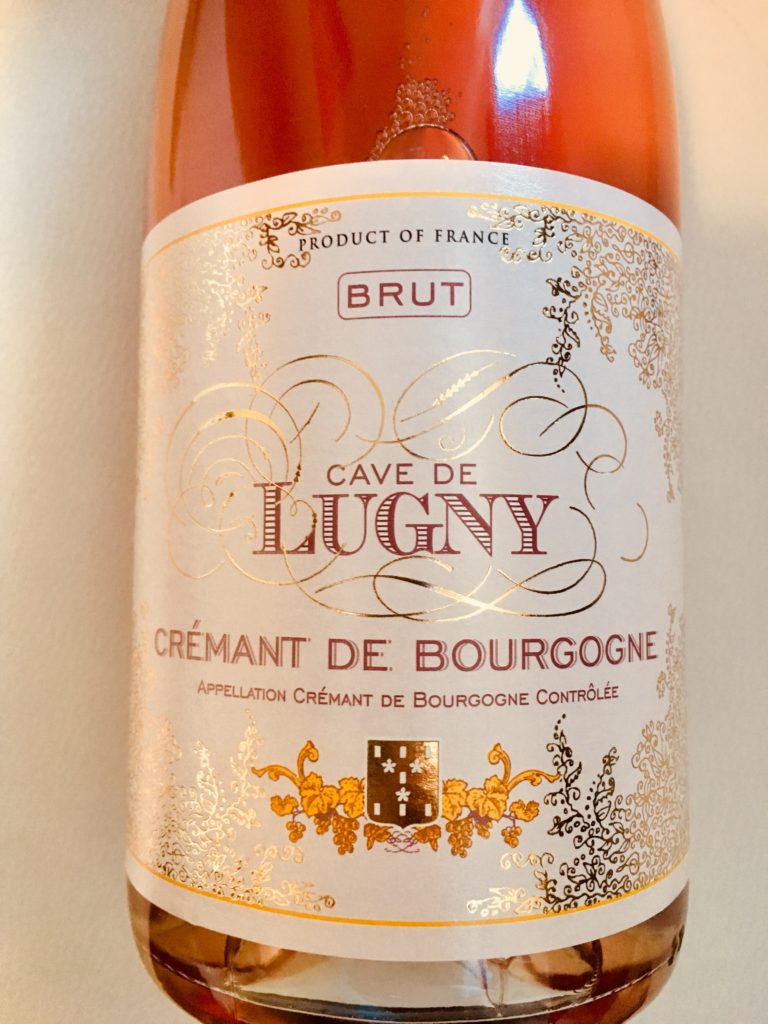 This particular rosé brut is quite versatile with it's strawberries-and-cream upfront fruity nose, and lip-smackingly-delicious bone dry finish. It is a steal for the price (think under $20 CAD!) It is PERFECT for charcuterie and cheese boards- especially ones that have some tangy, creamy goat cheeses featured. The acidity in both the wine and cheese will be a match made in heaven! Pinot noir often lends an earthy, mushroomy undertone which pairs well with some gamier cured meats. I have no problem enjoying this stunning beauty on its own – admiring its' pink regal elegance sparkling in my flute, imagining that I am Queen for a day, ha!
You too can look a rock-star by showing up with one of these sparkling gems. Smile with anticipation when you hear its' cork pop open– an undeniable celebratory sound! Life is a beautiful a celebration unto its own – everyday, every moment should be acknowledged as such. So much easier said then done while most of us are working and running around in the rat race all year long. Now that the holidays are here, it's time to slow down in between the madness and savour each moment available- whether it's in your sparkly holiday clad, or hibernating in your pyjamas for a few consecutive days. Those of you in the retail or hospitality business catering to the holiday festivities (and more likely exhausted from doing so), make sure you take some well-deserved time to breathe, relax and enjoy wherever you can sneak in a moment or two –with a glass of bubbly of course! It is vital to your health and over-all well-being. Raise your head high, and your flute higher; as they say in France, "to your health!"-  Santé!