Prince Edward County, Ontario's 'newest' noteworthy wine region has been getting some warranted international and local recognition for its similar Burgundian soil characteristics, and rightfully so.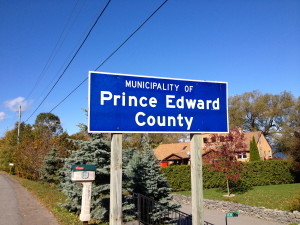 I'm going to be honest here, I knew 'The County' had potential; I had no idea of its current ability, nor its rich horticultural history, until I recently revisited this PYT (pretty young territory). The region itself, is not young I am told. In fact, according to The Prince Edward County Wine Growers Association,
"The history of grape growing and winemaking dates back to the 1800's when Dorland Noxon of Prince Edward County was awarded a gold medal at the 1876 Philadelphia Exposition."

The history of grape growing and winemaking dates back to the 1800's when Dorland Noxon of Prince Edward County was awarded a gold medal at the 1876 Philadelphia Exposition.

Unfortunately, because of the Women's Christian Temperance Union and Prohibition of the late 1800's, winemaking was quietly made in secret.

The entrepreneurial grape growing idea was not revisited until 1981- and through-out the early 1990's. Vines of vitis vinifera (quality wine making grapes) were then replanted and given serious attention by grape growers and enthusiastic, experienced wine makers. And so it began….

My impromptu host and very gracious chauffeur of The County, Bill Milliken, a consultant of  Closson Chase in Prince Edward County (we're going to shorten the region to P.E.C from here on in) not only schooled me on what The County is capable of, but also gave me insight of what has existed and what's to come within this rapid up-and-coming-wine-region.

I drove up to Bill's family farm near Kingston around 10am that beautiful Sunday autumn morning. The stunning rural countryside family farm welcomed me with open arms. Sheep were grazing in the glorious sunshine (it was supposed to rain), and Bill greeted me with a warm, hospitable handshake and a hearty smile. He was eager to show me all of P.E.C's rustic charm, and I was more-than-ready to learn.

The drive to P.E.C in his cute, sporty little Olive Green Fiat 500 was half of the fun. The sunny and crisp autumn day couldn't have been more perfect even if Mother Nature herself intended. Beautiful yellow, orange, and red Maples flaunted their pretty foliage on both tree and ground throughout the winding roads to 'The County'. Two strangers that have obviously met in a past life and have now reconnected on a journey to celebrate and embrace a wine region within close proximity of their daily day-to-day lives, rejuvenating both spirits.

Classical music played softly yet significantly from the speakers while we took in the photographic landscape. We each told stories of how we fell in love with wine. It was no secret- we both had a deep, serious love affair with wine that was going to last a lifetime.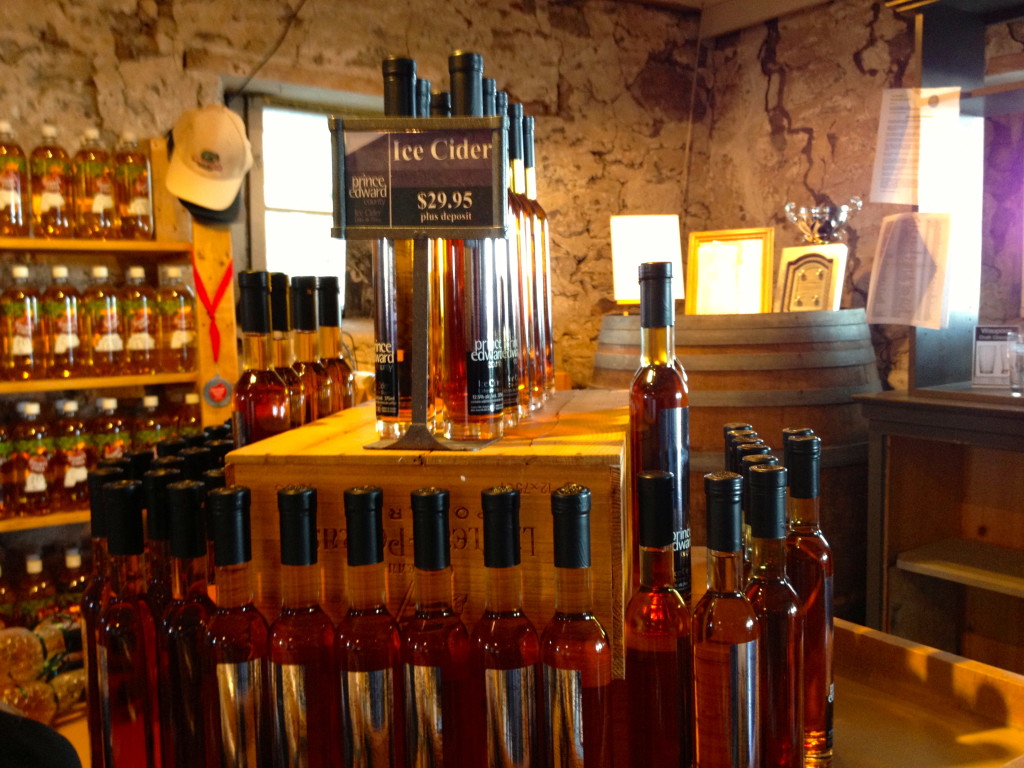 Our first stop was The County Cider Company at Waupoos. We tried some delicious hand-crafted dry, slightly off-dry and sweet yet tart ice cider. I imagined what kind of succulent pork-tenderloin with apples my mother could make for these delicious ciders. The stunning view of vines and waterfront property made it somehow easier to breathe deeply and understand why I am so in love with vineyards.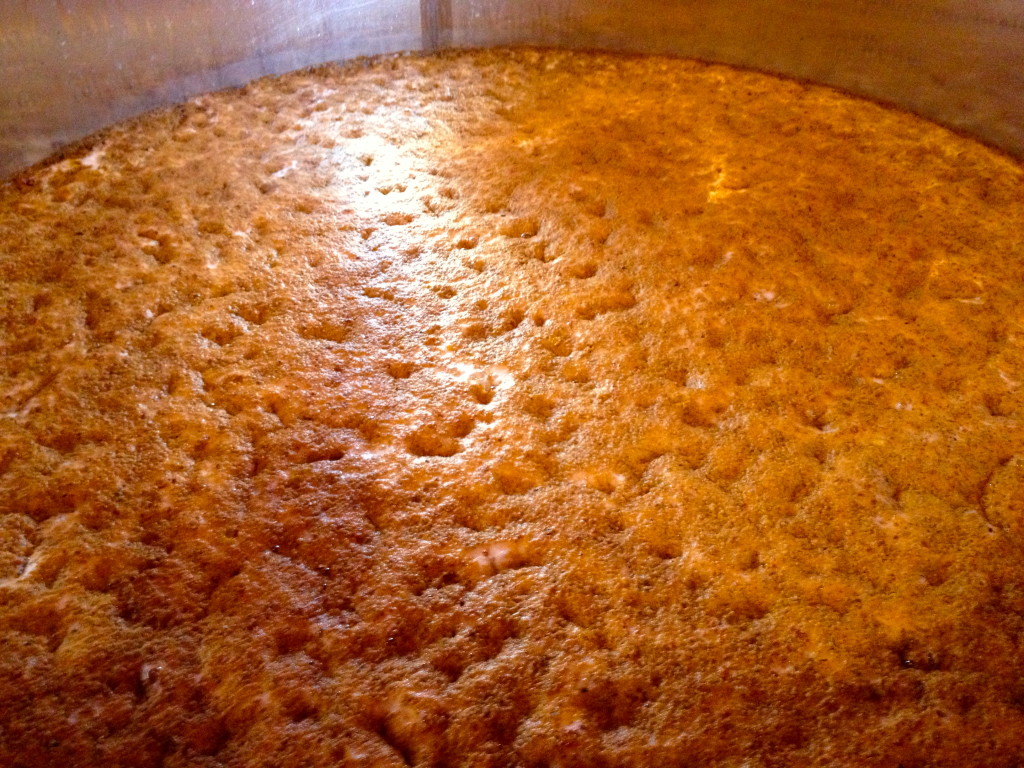 With no itinerary planned, we drove along the countryside to the next unexpected destination, Longdog Winery. There was a sandwich board stating the name of the winery with an outlined drawing of a wiener dog and an arrow pointing us in the direction of its loooong driveway. A tall man wearing his winery rubbers greeted us with an eccentric grin and immediately began showing us around his winery.
James the winemaker, a former IMAX film director, was as brilliant and unique as his wines. His sense of humour gave our bellies a work out almost as much as his fermented grapes tickled our palates. My first two purchases of the trip took place here: his 2008 Pinot Noir, a steal at $18 (a great lively simple margherita pizza wine pairing), and a peachy/white peppery 2009 Pinot Gris, to which James claims he took a complete "laisez-faire" approach to. Clearly his vineyard management skills spoke for themselves. We could have stayed all afternoon, but the clock was ticking, and it was time to move along to the next stop, wherever we landed.
Exultet Estates an award-winning, small off-the-beaten-path husband-and-wife operation was the next stop. As we tasted one of their prized Pinot Noirs, we joked about the movie Sideways. The funny thing is, I could smell Santa Barbara in his Pinot Noir. I forgot for a moment that I was much closer to home, and these were County Pinot Noir grapes! As in Prince Edward County, not Santa Barbara County.
We needed a theme song every time we hopped in the Fiat to head to the next winery. I vote for Willie Nelson's "On the Road Again".
"Oh we have to pop in here," says Bill speaking of Lighthall Vineyards, (another unknown winery to me), "He makes stunning Chablis-esque Chards". No kidding! I bought a bottle of his 2011 Chardonnay Reserve and sucked it back with my Chardonnay-loving-Mother and some Lemon Fetish delightfully-tangy-sheep's milk cheese from P.E.C the following day. I thought I had died and gone to Chablis!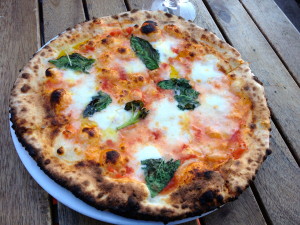 A trip to The County would not be complete without visiting the man himself who humbly put Prince Edward County onto the serious-wine-making-map, generating international recognition; Norman Hardie. Though I have no relation to the South African born wine maker, I want to call him 'Uncle Norm' when he greets me with a warm hug, thanks to his most gracious hospitality. We sipped Norm's classically minerally Riesling and Pinot Noir while inhaling his delicious artisanal wood-fired oven pizza on his patio (we were starving by this point, it was already 3:30pm!) . The winery was packed with P.E.C. wine and food enthusiasts. Norm was smiling and happier-than-a-pig-in-you-know-what with this year's outstanding vintage and harvest. But he could not venture far from his winery over the next couple of weeks, as important winemaking decisions could only be made by a man with 25 years of harvesting experience under his belt. After hugging our good-byes and leaving our best wishes behind with reassurance that "I Will Be Back!"
Dusk was fast approaching. We had only an hour to visit Closson Chase, Hinterland, 66 Gilead Distillery and Huff Estates Winery. I'm not sure how we managed, but somehow we pulled through.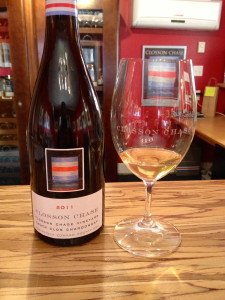 My first sniff, whirl and sip of Closson Chase's 2011 South Clos Vineyard Chardonnay made my knees week and my jaw drop, realizing Prince Edward County's full potential. The butterscotch, the apples, the buttery-richness and minerality on its palate not only blew my mind- it justified a $40 bottle of wine purchase for my Chardonnay-loving-Mother and I to enjoy together over our belated Thanksgiving Turkey dinner. Bill kindly reminded me that Closson Chase's demand has exceeded its supply, to which I replied, "There are worse problems in the wine world to have!"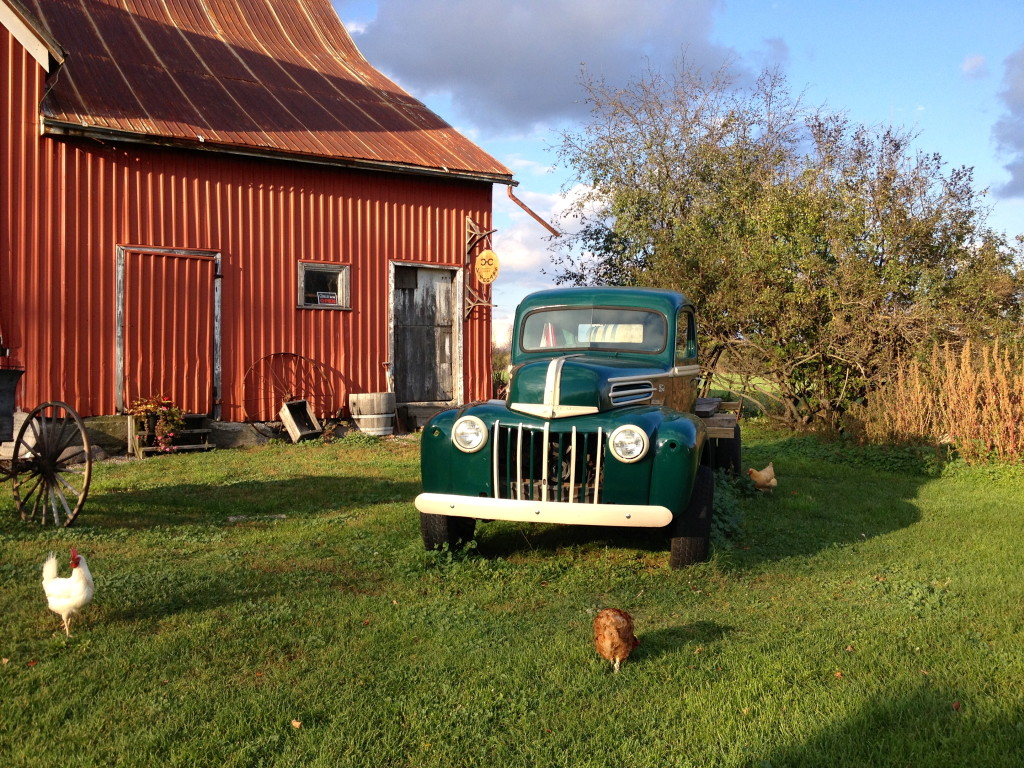 Bill had to pick up a couple of bottles of craft distilled rum from the 66 Gilead Distillery before it closed, so what the hell, lets go in and do a tasting. We pulled up to the charming 1840-something-old farmhouse with a vintage vehicle and wild chickens running around in the yard.
We entered. The smell of antique furniture and bitters greeted our noses. A lovely woman by the name of Joy (her name is fitting) welcomed us with a comforting smile and guided through a knowledgeable tasting of Ontario craft vodka, gin, rum and sochu (Japanese sake, distilled). I rarely drink hard liquor and somehow I ended up with a bottle of their Gin, craft Tonic and "Silk Road" bitters made with raisins & figs.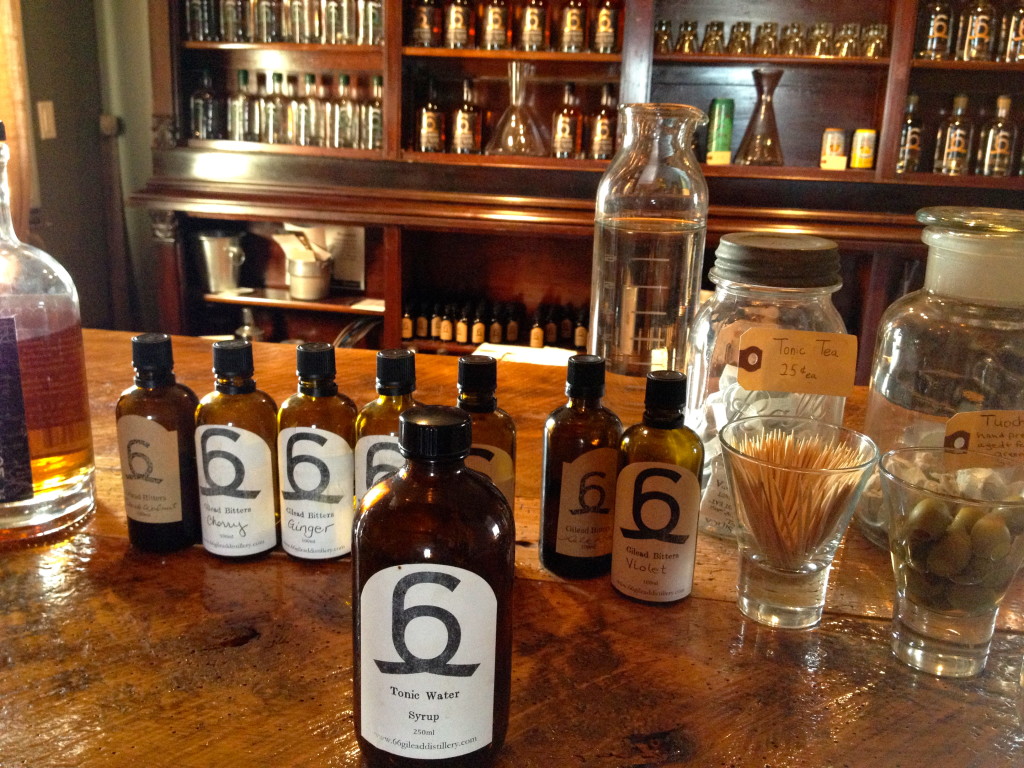 The clouds began to roll in, and the sun began to descend. A burst of firey orange-amber hues appeared along the horizon as though a paintbrush lead its wake. We were in luck; the Huff Estate Winery tasting room was open until 6pm. Naturally, we made the stop. Their plummy, tobacco-leafy, licoricey merlots reminded me of St. Emillion of Bordeaux. The County is growing quality MERLOT? I thought to myself. Huh. Wow.
I didn't want the day to end, ever. But, it ended on a high note with some fish tacos in Kingston at a new seafood restaurant, Dianne' s Fish Bar.
My insatiable need to go back to the county makes me feel like I'm being constantly bit by the "travel bug". All of these years I spend dreaming of venturing to other wine regions of the world, 'when I have the money'. And all of this time, I have had a wine region so beautiful, so significant, and so astounding almost in my own backyard. This adventure is 'To be continued…'